In the market, there are have some vendors provide windshield washer tablets. Why choose us?
Environmentally friendly and no damage to the window
Efficient dissolution and leaves no trace.
Quickly remove oil, dirt, dust.
Soften the cleaner and reduce noise.
Clean the window and safe driving.
Unique bigger tablet ( 5 gram), equal to enough wiper fluid!
100% satisfaction with the customer service provided.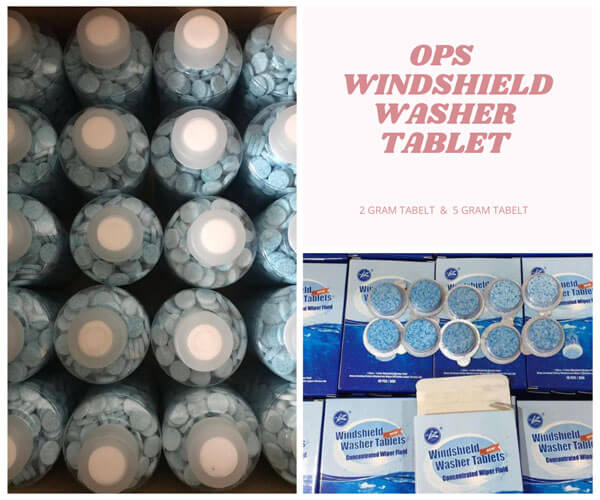 How do effervescent cleaning tablets work?
– Highly effective in removing insect splashes, bird droppings, tree sap and road dirt from your windshield.        You can also use it to clean mirrors and any other surface that needs to sparkle and shine!          Safe for all metal, windshields and glass, rubber, plastic and painted surfaces.
– Leaves no traces or reflections for greater visibility and safety. Moreover, it does not contain
fluorescent agents and does not harm clothing and body.  Ecological, biodegradable, phosphate-free,
and fragrance-free formula. Dissolve thoroughly without residue!
– Mixable with antifreeze agent, to improve cleaning performance in winter.        Note: Please note that this is a summer formulation. It will not prevent the water from freezing in your tank.
– This windshield washer tablet will save you a lot of money compared to buying a "classic" washer fluid.
10 Pieces Effervescent Cleaning Tablets, You Will Get 40 Litres Of Wiper Fluid.
– Replace traditional cleaning fluid! The tablet is much more convenient to transport and store compared to conventional cans.
How do you use effervescent cleaning tablets?
1: Dissolve the tablets in a bottle of water and, once dissolved, pour it into the tank and fill with water.
2: Split or grind the tablets, pour them into the windscreen washer reservoir and fill with water.
In a few minutes, they dissolve itself, and that's it.
The quality is the same as any € 4 or € 5 wiper per 5-litre bottle from the supermarket or similar,
and needless to say, much cheaper!
More information, please click here!