Effervescent Cleaning Tablets
Best Windshield Washer Fluid
Brief Overview
Concentrated Effervescent Tablets for windshield glass cleaning, it can be converted into all-season windshield washer fluid, much better than conventional glass water Cleaning strong capacity. Performance efficient, a grain of 4 liter equals to general water wiper. Maintenance wiper windshield, very important is glass water add wiper fine, regular and glass cleaning wiper. The use of biological enzymes to decompose stains to achieve a clean effect, more environmentally friendly, non-toxic, no chemical bleach. The windshield washer tablets are your good car
or ordinary cleaning partner!
Parameter: 
♣ It dissolves quickly, easily to remove dirt from the glass.
♣ 1PC Cleaning Tablet equal to 4L car glass water!
♣ More efficiency than traditional cleaning agent.
♣ Blue color, small size, price cheaper and easy for carrying.
♣ Packed bt milk film, color box, alum film, etc.              ♣ Available for degree windshield washer fluid.
Why is it important to choose a reliable windshield washer fluid?
Long term use in the outdoor environment, your car's windscreen is blurred already and with many scratches.
According to the statistics of authority department, in the collision accident, 70% of them are caused by the poor vision of windscreen!
It is easy to aging the windscreen wiper due to exposure in the sunlight and rain every day if the surface is not protected or lubricated,
it is easier to shorten the service life of the adhesive tape and the windscreen would be hard to be cleaned!
Actually, make your own windshield washer fluid is so easy things!
Corrosion by acid rain • Damage by high-temperature • Isolation and rampant wind sand • Auto Exhausts
These conditions always caused serious injury to the windscreen wiper.
A poor choice of windshield wiper fluid can cause a layer of dirt or fog drop on the windscreen
which cannot be completely cleaned, resulting in blurred vision.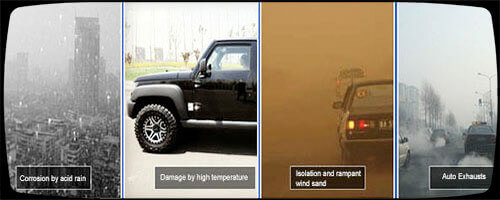 Do you have such a wrong practice?
Instead of washing the car with all season windshield washer fluid, use dishwashing powder, washing powder, etc.?
Or directly wash the car with clean water?
What harm does it bring?
Clog the spray nozzle, Corrode the rubber hose, Harden the windscreen wiper, scrape the windshield surface.
OPS Effervescent Cleaning Tablets, make the best windshield washer fluid.
Seven major advantage and feature of the concentrated effervescent tablets.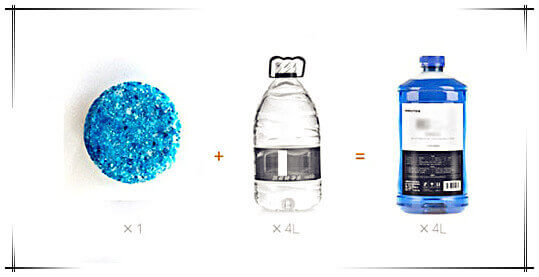 Quick and efficient in removing oil film:
♦ Quickly clean the oil film of windscreen without water stain, and could extend the life of windscreen wiper.
Protection for the windscreen wiper:
♦ Long term use of this product can soften the windscreen wiper, thus better attach to the windscreen and to provide longer service life.
Safety and softness:
♦ No scratches or corrosions on the windshield, without corrosion.
Easy to carry:
♦ 1PC Cleaning tablet equal 4L car glass water, save space in the car.
Necessary for rainy days:
♦ The oil film can not be removed, why not add this product to brush away troubles bring by oil film
High light transmission, clear vision:
♦ The windscreen is clean and traceless, more transparent, let you drive more safely.
Multifunctional and all-in-one use:
♦ Whatever the client use it in any season, windshield washer fluid for winter also has an excellent effect!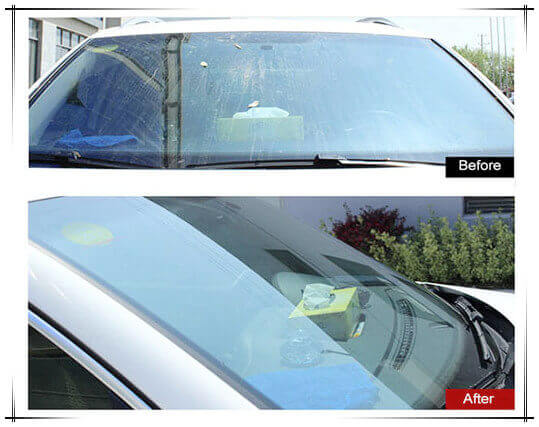 How to use the windshield washer tablets?
1. Open the lid of the car kettle and fill it with clean water
2. Take out the effervescent tablet and put it in the kettle
3. Turn on the auto cleaning equipment in the car and the cleaning is finished.
You see, homemade windshield washer fluid is easy or difficult working? The answer is a simple task!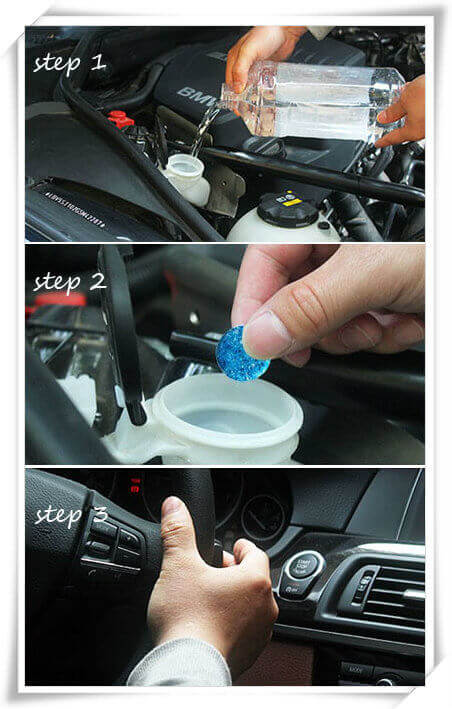 Effervescent Cleaning Tablets Specifications Sheet
| Product Name | Effervescent Cleaning Tablets, Best windshield washer fluid |
| --- | --- |
| Product Spec. | 1PC or more pcs packed |
| Appearance | Concentrated Tablet |
| Guarantee Period | 5 Years |
| MOQ | 10,000PCS |
| Delivery date | Around Two Weeks. |