Car Wheel Cleaner
Best Rim Cleaner Wholesale
Brief Overview
Quickly removes grime and breaking dirty! Which a part of your vehicle is the dirtiest? Your wheel! Between the heat, bad weather and constant brake contaminants your wheels are almost immediately dirty. OPS Rim Cleaner is specifically formulated eco-friendly cleaning powder to target heavy brake dust and leave your wheels spotless. Wash, wipe and restore your wheel tub to the original gloss! We pride ourselves on customer service and satisfaction and believe that the Chrome Rim Cleaner is favourable product on the market.
Parameter: 
♣ OPS Wheel and Tire Cleaners
♣ 500g powder, packed in plastic bag or plastic box.
♣ Suitable for cleaning various vehicles rims.
♣ Penetrate the interior of dirt, quickly dissolve.
Rim cleaner, OEM / ODM service, Wholesale.
You should use the professional Car Rim Cleaner.
Do you know all of these questions? It's some difficult to clean stubborn stains, oil dirt, iron powder, yellowing wheel, filled with dust, oxidized and lackluster with a non-exclusive cleaning agent. A gleaming set of wheels could make an ordinary, used vehicle appear new. And with just a little time and use the right cleaning product, reasonable method, then you are able to take your wheel towards the better level. Brake dust, a sticky substance caused by friction whenever you apply the brakes, is extremely corrosive and may trigger permanent harm if it left on car wheel hub too long. That's why should clean your wheels regularly is much important.
How to clean brake dust off chrome wheels? At least should have a rapid dissolution, strong decontamination ability and not harm the wheel!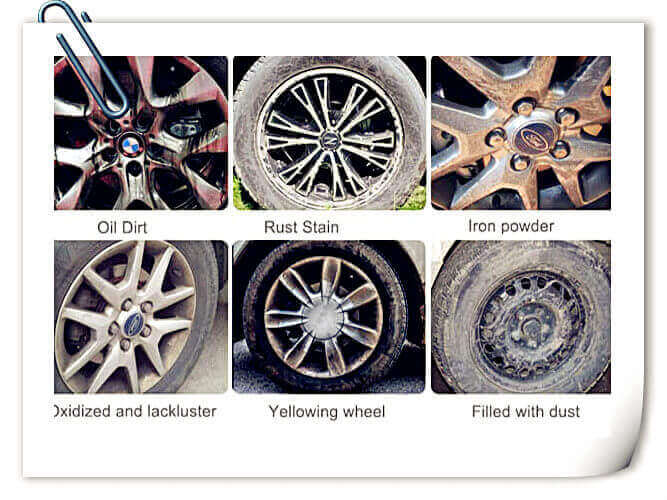 We have advanced research, development technology, some scientific personnel to develop new products every year. Our alloy wheel cleaner contains powerful decontamination factors, acid-free and pH neutral formula which can quickly penetrate dirt and grime at the source and makes your wheel cleaning time significantly shorter! Most wheel cleaners could be damaged to your wheel finish and dissolve more than what you wanted to clean off! OPS alloy wheel cleaning kit get to work fast and dissolve stubborn metallic contamination!
Unlike the body of a car, its rims are exposed to some of the toughest condition out there. We look at ways to deliver value and get the job
done right for our customers. The rim, tire blooming cleaner is one of the best wheel cleaning formulas, and we want you to discover what it can do for you. Cleaning car wheels don't have to be tough! Just mix it with water, and then apply it to your dirty car wheels.

♦ Rapid dissolution and the foam is abundant.
♦ It contains powerful decontamination factors, which can quickly dissolve stains.
♦ Contains brightening factor, fully protect the wheel hub, long-term use of this product can make your vehicle wheel as shiny as new.
♦ Safety chrome rim cleaner, gentle, not take any harmful for your hands.
♦ Even if the car status is much dirty, it's a piece of cake for OPS heavy duty alloy wheel cleaner!
OPS Homemade Tire Cleaner Advantaged Features:
♦ Fast penetration
Rich in cleaning ions and with deep penetration ability to decompose stubborn dirt.
♦ Clean as new
Improve the darkened, lusterless and other phenomena of the wheel hub, restore it to the original gloss.
♦ Maintenance
A transparent protective layer can be formed to prevent damage such as stain, erosion, and oxidation.
♦ Quick decontamination
Wash and wipe can quickly remove dirt, simple and convenient.
♦ Safe and environment-friendly
Suitable for various wheel hub surfaces, biodegradable and free of harmful substances.
How to remove rust from aluminum rims?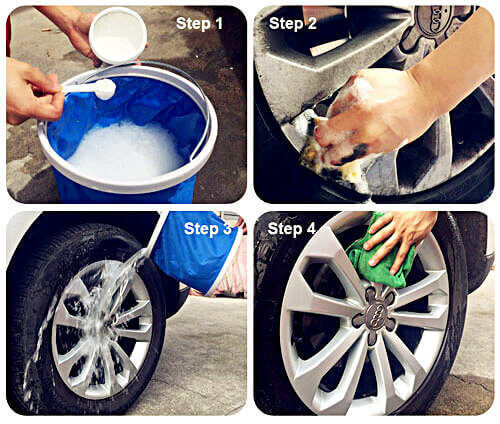 1. Pour 2-3 tablespoons powder into the barrel, it is recommended to pour powder first and then pour water.
2. Pour the foam water over the hub and let the water sit on the steel ring for a few minutes before scrubbing
it with tools such as a sponge etc. It's homemade tire cleaner and chrome rim cleaner, we also have spray cleaner
for carwash station. It's even more convenient for working!
3. Rinse it with clean water. (Or directly rinsing by high-pressure washer)
4. Finally, wipe it with a cloth.
How to remove caked on grease from engine?
We also provide the favourable Engine Cleaner Degreaser, it was made from rim cleaner formula.
Show your the professional engine cleaning in below: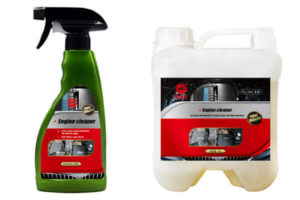 What do you think of the OPS car cleaning supplies?  More information, please contact us.
Car Wheel Cleaner Specifications Sheet
| Product Name | OPS steel ring self-cleaning agent |
| --- | --- |
| Product Spec. | 500g / 1 Bag |
| Price | US$2.20 / Bag (FOB Ningbo/Shanghai) |
| Appearance | Powder |
| Guarantee Period | 3-5 Years |
| MOQ | 1 MT (2000 bags) |
| Delivery date | Around 15 days. |
More Information, Contact Us