Rolling Detailer's Cart
Creeper Seat
Brief Overview
The creeper seat with big seating platform, slide out tool trays and drawer. You'll rule the garage and driveway on this rolling detailer's cart. Made of durable plastic, the wheels roll really well on driveway and concrete alike.Great for all sorts of uses including automotive detail or mechanical work.
Feature: 
♣ Roll your way through a detail.
♣ 3 separate organizational trays.
♣ Holds up to 330lbs!
♣ Durable polyurethane on a metal frame
♣ It's pretty sturdy, easy to assemble, comfortable to sit on.
The Speed and Reach to Get the Job Done
This compact sit-on creeper has been a customer favorite since we made it few years,
and there's no doubt that has to do with its ideal height, balance proportions.
and high-quality construction. This is the perfect tool for all you down low and dirty detailing
and maintenance jobs. You may encounter in the garage or your driveway.
The Detailer's cart body comfortable, ergonomically designed seat are made of hard plastic but it was
enough for you to spend 2-3 hours polishing and waxing. The plastic is balanced by an incredibly sturdy
steel frame and heavy-duty four inch casters. It rolls VERY WELL both in the garage with painted floor but
also on the rough outside concrete wich is imperative. Two of the four wheels are lockable, as well to keep
you in place once you've found your sweet spot.
FUOU creeper tool with a full length pull out drawer and two removable trays, which are nice and easily lift on or off,
assembly was a piece of cake and you dread assembly projects.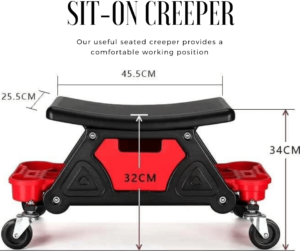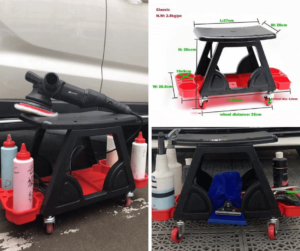 This car detailing equipment also has some clever storage features. It comes stock with two accessory trays on
either end of creeper, for fasteners and other small tools, that also include bottle holders that can hold our
8 ounce or 16 ounce bottles. A storage drawer for organizing detailing supplies like brushes, towels and pads,
occupies the center of the creeper. You can also customize your creeper by adding additional storage capacity and comfort.
It sits at the perfect height to reach the wheels both upper and lower sections without much effort, especially
the upper ones. Great to use for brake changes, car detailing or work around the house that requires low
area work in place of kneeling, Good freedom of movement with the larger wheels.
Want to book it? We're always here if you have interested
| Product Name | SIT-ON CREEPER, Rolling Detailer's Cart, Creeper Seat / Tool |
| --- | --- |
| Product Spec. | Small Model / Medium Model |
| Product Size | 375x360x260mm / 455x320x255mm |
| Packing | 1 PC Creeper packed in one master carton |
| MOQ | 400 Sets |
| Delivery date | 3-4 Weeks. |
More Information, Contact Us